08/15/2023
Kingdom's Love Ministries "Hair Affair Event" was a success! Plans to become an annual event.
A cut above the rest
Local barbers volunteer services to area students in preparation for new school year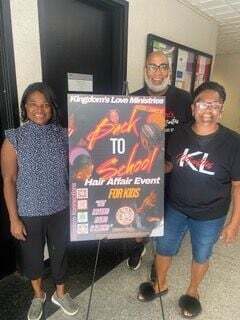 by Emily Spatz
for The Herald
Kingdom's Love Ministries hosted its first ever Back to School "Hair Affair Event" on Monday, July 31, providing school-aged children with haircuts and hairstyling from local barbers in preparation for the new school year.
KLM is a local church, established in 2022, geared toward servicing the local community. The organization partnered with Franklin Housing Authority to put on the event, which was held at FHA's Franklin location and was open to every child in the community.
Along with free food and games provided at the event, local barbers volunteered their services for free, giving attendees haircuts and simple hairstyles like braids and press & curls. The main goal of the day, said KLM's Pastor Timothy Gaines, was to get kids feeling their best before they started school.
"We wanted our kids to look the part when they were back to school. We understand the power of first impression, and we also understand that a lot of times you feel better about yourself when you feel that you look better," Gaines said.
The event drew around 90 people and was able to serve around 70 kids. Gaines called it "very successful" and has plans to make the event an annual occurrence.
"It wasn't really intended to be annual, but it turned out being that way because we partnered with Franklin Housing Authority and we decided, especially when we saw how successful it was, we made a pact to make this an annual back to school event," he said.
KLM has plans to continue doing events for the community and is working on holding a clothing drive and a food drive in conjunction with Daughters of the King. KLM worships at the New Brentwood United Primitive Baptist Church, with services starting on Sunday mornings at 11. For more information, visit https://www.facebook.com/KingdomsLoveMinistries/.
Click here to see the full article at The Williamson Herald's website.