06/06/2022
FREE Health Clinic at St. Philip the Apostle Catholic Church on June 11th
Mercy Community Healthcare to host health fair at St. Philip the Apostle Catholic Church on June 11th
Mercy Community Healthcare and St. Philip the Apostle Catholic Church will sponsor a free health fair at the Franklin church June 11. Some of the services that will be offered at the fair include mammograms; pregnancy testing and ultrasounds; glucose, A1c and blood pressure testing; free diaper packs; vision screening for children; hearing testing; assistance with finding health insurance; and learning sessions on Medicaid options, fall prevention training and more.
When: June 11th, 10 a.m.-2 p.m.
Where: St. Philip the Apostle Catholic Church Community Center at 113 Second Ave. S. in Franklin. Attendees are asked to park in the Second Avenue Garage.
For those interested in a mammogram at the fair, schedule an appointment ahead of time by calling 615-790-0567, Ext. 235.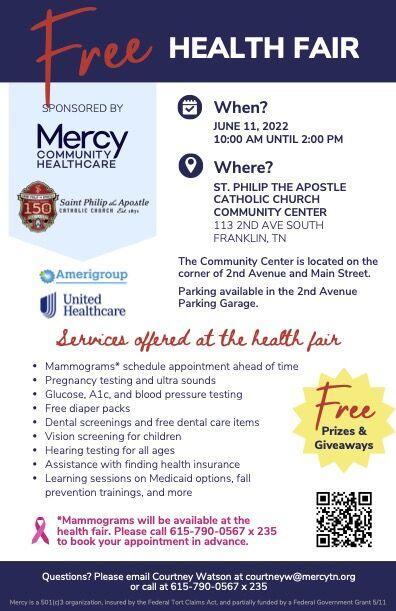 Please visit the Williamson Herald for the full story.