01/30/2023
Zeta Phi Beta Sorority, Inc., Psi Phi Zeta Chapter announces its Janice Pickett-Rowe Academic Scholarship
Dear Applicants,
Zeta Phi Beta Sorority, Inc., Psi Phi Zeta Chapter is pleased to announce its Janice Pickett-Rowe Academic Scholarship. The women of Psi Phi Zeta Chapter seek college bound, serious minded graduating high school man/women seniors for this award. This scholarship is awarded annually to a deserving rising high-school man or women graduate.
The purpose of this $500 book scholarship is to assist a graduating high school senior in obtaining a college education and to promote Zeta Phi Beta Sorority, Inc. This scholarship targets under-represented minority students (African-Americans, Latinos, and Native Americans) who are currently high school seniors in Williamson and Maury County, Tennessee.
All completed applications submitted by the deadline will be given fair and careful evaluation. All submitted applications become property of Zeta Phi Beta Sorority, Inc. and cannot be returned. Information received is considered confidential and will only be reviewed by the Psi Phi Zeta Chapter Scholarship Committee members.
Award and Payment
A one-time non-renewable academic scholarship award of $500 will be paid directly to the recipient for the Fall 2023 semester.
Guidelines and Application
The applicant must be accepted at a college or university granting, at a minimum, a two-year degree. The recipient must provide proof of acceptance and enrollment before funds will be dispensed directly to the college/university,
Application Eligibility and Process
All applicants must meet the following criteria to apply:
graduating high school senior
3.0 GPA on a 4.0 scale
commitment to enroll in a 2-year or 4-year college or university
All applicants must send:
a completed application
a high school transcript
a 500 word essay on the specified essay topic
Please contact me at (520) 288-2181 or WilliamsonCoZetas@gmail.com if you have any questions.
Sincerely,
Marisha Findley
President, Psi Phi Zeta Chapter
Send application to:
Psi Phi Zeta Chapter Scholarship Committee
P.O. Box 1920
Springhill, TN 37176
Or by email at WilliamsonCoZetas@gmail.com
***All applications must be postmarked by Friday, Feb 28, 2023 ***
Selection and Notification
The scholarship recipient will be selected according to merit on a competitive basis. All applicants will be notified of their status no later than Wednesday, March 31, 2023.
Essay Rules
Essay must be an original work not previously written or submitted to any other contest, nor bound by copyright.
Essay must be no less than 500 words in length
Essay must be typed, double spaced, and present an adequate treatment of the essay topic.
Essay Topic:
What are your academic or career goals and how will they enable you to make positive contributions to your community?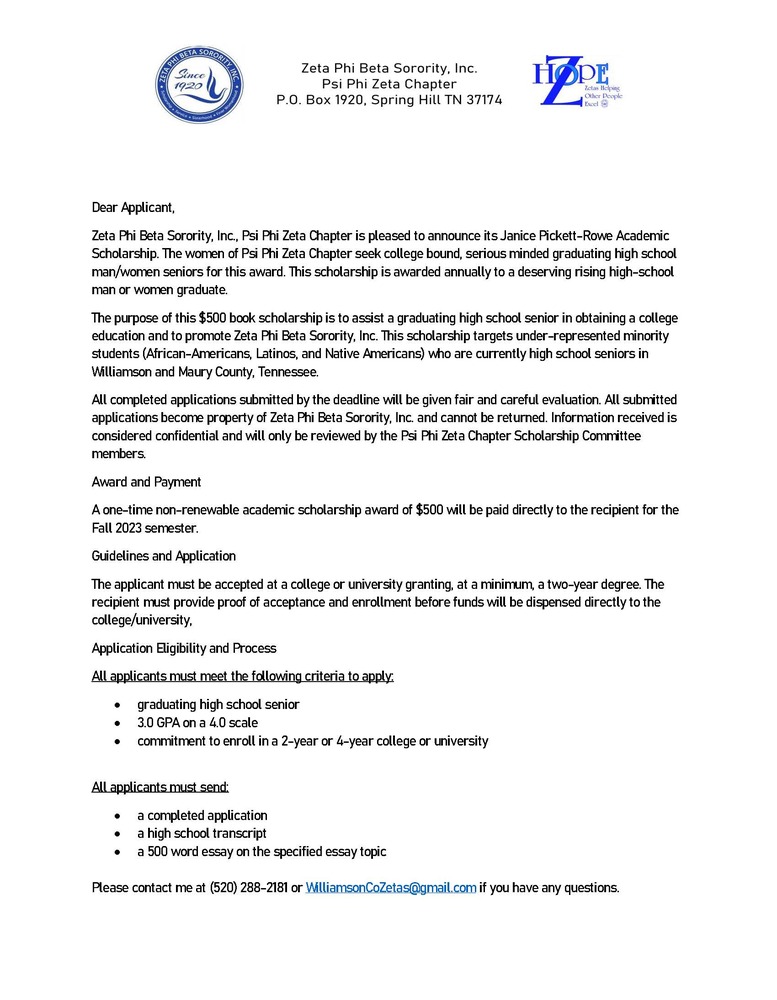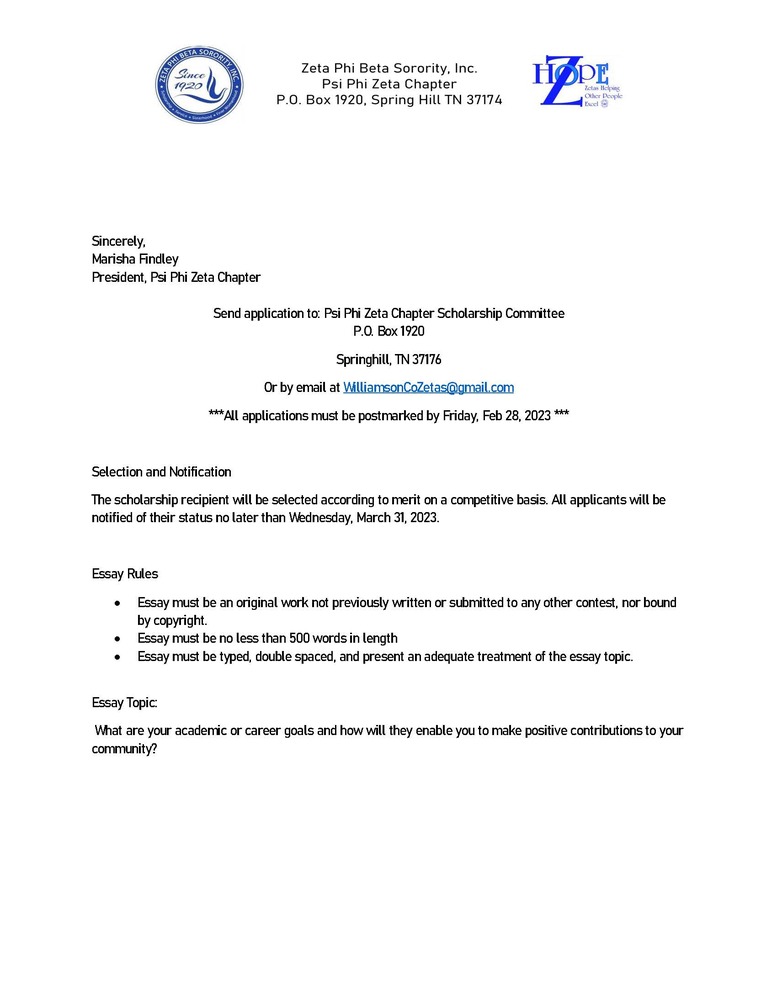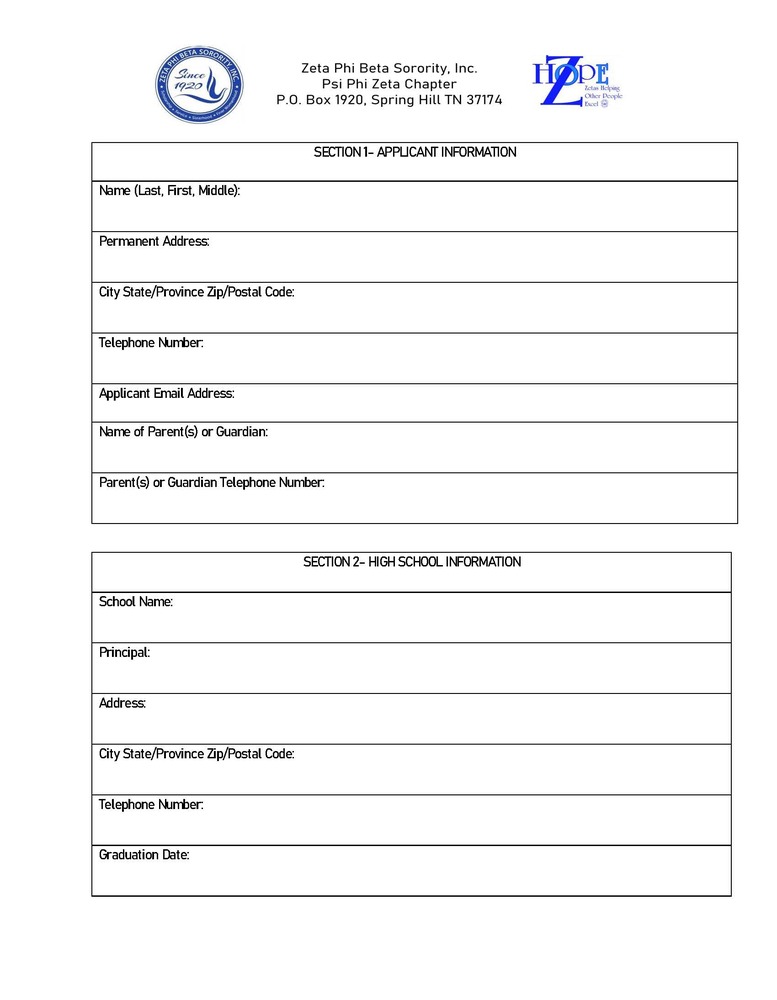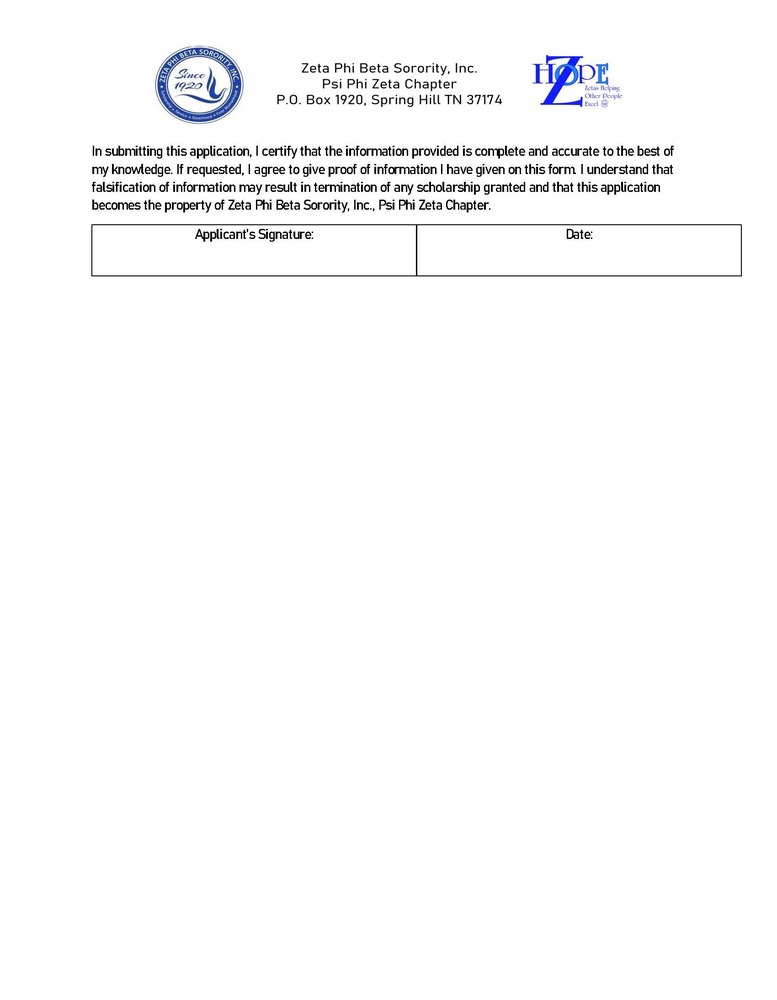 For more information, please visit Home (zphib-phipsizeta.org) and click on the scholarships link.